Dining Services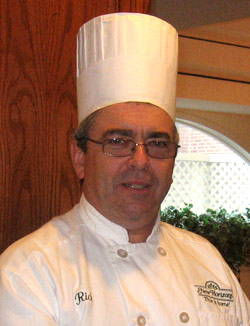 Enjoy three gourmet meals in elegant bright, airy dining rooms, with none of the shopping or lugging, and none of the cooking or cleanup, either.
All residents at New Horizons typically have choices of dining hours and multiple selections for entrees and side dishes, as well. Guests are always welcome to make a reservation for a delicious home cooked meal any day of the week.
Leading the culinary team at New Horizons is Executive Chef Rick Greene. A life-long Woburnite, Rick has been serving the retirement community residents since 1994. All three of Rick's sons worked at New Horizons during their high school years and Rick's father was the owner of Greene's Diner, a famous Woburn eatery.
Click here to view a sample menu.